By Hannes Dempewolf, Senior Scientist – Head of Global Initiatives, Crop Trust. Photos and additional reporting by LM Salazar, Communications Manager, Crop Trust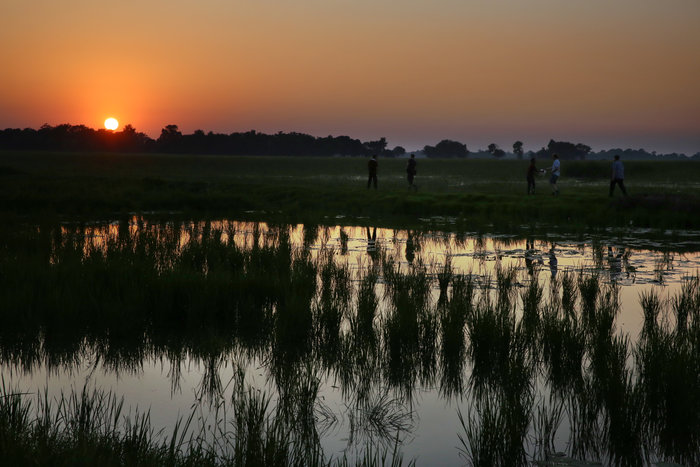 Ajingara Taal (Python Lake), Nepal, 2017
This is part of a series of stories highlighting the accomplishments of — and challenges faced by — the collecting partners of the Crop Wild Relatives (CWR) Project. In October 2017, the Nepal Agricultural Research Council (NARC) welcomed a small group of CWR Project team members for a visit.
Our destination: Ajingara Taal (Python Lake) in the subtropical region of Nepal. More than just a lake, we found ourselves standing at the edge of vast wetlands surrounded by never-ending fields of rice. In the distance, farmers harvested their fields and tended to their buffalo. It was late afternoon; the sun was dipping below the horizon. Making the most of the fading daylight, the NARC collecting team spread out and began its hunt for Oryza rufipogon, a wild rice that was known to grow abundantly in the shallow waters of the lake. But out of the thousands of plants they'd seen here the previous season, there was not one to be found.
The collecting team moved fast, but carefully. It is called Python Lake for a reason. Darkness started to engulf us. Deepa Singh Shrestha, Senior Scientist at NARC, and leader of the CWR efforts in Nepal, was increasingly worried about what may have happened to the healthy population of Oryza rufipogon. "During the first visit, we collected plant specimens. Unfortunately, seeds were not in the optimal stage for collecting, so we'd planned to collect this season", said Deepa.
Krishna Hari Ghimire, the team's rice expert, soon found a small number of plants jutting out of the shallow waters. He called out, and we all gathered around him.
 * * *
Collectors need to be detail-oriented and organized; when preparing for a field expedition, they carefully study the scientific literature to know where and when these plants have been collected. They visit herbaria and familiarize themselves as much as they can with the plants, searching and learning about the many tiny details that can (and will) help identify a species –  everything, from the size of a flower petal to the shape of the thorns on its stem, the color of the tiny hairs surrounding the base of a flower to the texture of the seed coat, reproductive cycles and much more. They study the habitats they will be treading through too. And then they map out their trip to eventually gear-up and venture out into the wild.
Not finding crop wild relatives in sites where past collections had been carried out is part and parcel of the job. But it's one thing to visit a site 30 or 40 years later and come out empty-handed. Quite another to come back after a few, short months to find such a drastic change. This is habitat and biodiversity loss happening 'live'.
* * *
So why were we at the collection site so late in the day?
Let me take a quick step back here. Last October, I joined Deepa and the handful of colleagues that make up our CWR collecting partner team in Nepal. Since 2016, they have been busy collecting wild relatives from gene pools of 16 crops. So far, they have collected crop wild relatives of oat, finger millet, rice, alfalfa, carrot, pearl millet, grass pea, apple, eggplant, sweet potato, vetch and pigeon pea.
Our week-long visit began with a tour of the NARC genebank in Nepal's capital, Kathmandu. A long, eventful day in the Chitwan National Park followed. Early the next morning we jumped into our bus and travelled to the Lumbini region, birthplace of Buddha, where we then transferred to jeeps, and rode for hours and hours over dusty, potholed roads. Our destination: Python Lake.
Our NARC colleagues had included this specific field visit because of its large population of Oryza rufipogon. Our road trip took longer than expected and thus the late arrival. And, as sometimes happens, we had difficulties finding the old collecting site. After stopping, asking for directions several times, and turning left and right and around, and asking some more, we finally found the location. And the unexpected absence of those thousands of O. rufipogon plants.
 * * *
Under the grayness of the evening sky, the NARC collecting team walked, empty-handed, slowly back to the jeeps. Surely this was not the first time that they were face-to-face with such an extreme and sudden near-extinction event. It surely won't be their last either. But this reality weighed heavily on them. On me too, but at that moment, as I followed close behind them, I was distracted by something else; eyes on the ground in front of me, I found myself strangely hoping I would – and would not – see a python.
 * * *
 Oryza rufipogon is one of the best-known wild relatives of rice, and the putative ancestor of domesticated rice. It has been used as a source of many different traits for rice improvement for decades, including several yield-related traits – not somethig you'd easily be able to guess when looking at the scrawny looking plants.
Interestingly, this species has also significant cultural value in Nepal. Every year from October to December, the people around Ajingara Lake in Kapilvastu collect its seeds — called tinna/tinni rice — that are eaten during the Chhat festival and fasts like ekadashi. Because this variety shatters upon maturity, (i.e. dispersing the grains of rice), harvesters must tie cloth and plastic bags on the wild rice plants.
The unusual fact that this is one of the few crop wild relatives that is directly used by many Nepalese, and, moreover, has a significant cultural value, seems to not have prevented the drastic reduction of this population in Python Lake.
The reason for the steep decline of this population appears to be two-fold. First, the lake shores had recently been used to grow Dhaincha (Sesbania bispinosa), which is used for green manure, animal feed and fire fuel. Second, the whole lake had been leased for carp production.
 * * *
Changes in land use are a common threat to crop wild relatives. What we saw in Python Lake is one example of what is happening every day, every minute, every second, all over the world.
For example, in Costa Rica, where past collectors found wild rice, all our partners from the University of Costa Rica (UCR) found in 2016 were sugarcane fields, housing complexes, and tilapia ponds.
Unless wild relatives are conserved in genebanks and their importance recognized by in situ conservation managers, valuable populations like the Oryza rufipogon in Python Lake are often doomed.
The day after our Python Lake visit, as we moved from the lowlands to the city of Pokhara – gateway to the Annapurna Circuit, a popular hiking trail in the Himalayas – we stopped outside the city of Palpa, at the edge of PrabashTaal, another lake, where a double-threat is menacing two wild rice varieties: Oryza nivara, and another Oryza rufipogon population.
The lake is now used to grow lotus, which is putting pressure on the native wild plants, limiting the areas where they can grow.  In addition, a teaching hospital has been constructed on one of the lake's shores, with much of its wastewater draining into the water body. An expansion of the hospital is planned, which will require the drainage of the wetlands, and in effect, blot out the habitat of these wild rice population.
Like the rice we saw at Python Lake, these populations are also on the brink of extinction.
During our brief stopover there we also found wild relatives of okra, eggplant and sweet potato nearby. Some are collecting targets for our project; some are not, but they are targets for our local partners, who, inspired – and empowered – by the CWR Project, have decided to expand the number of species they are committed to safeguarding.
Most people do not know these wild plants are close cousins of the domesticated varieties we eat. Even fewer realize how important they could be in making those varieties more resilient to the challenges climate change is bringing to farmers everywhere.
That's why the CWR Project, and the work our 24 national partners across the world are doing is so important: "We are collecting samples of what is still out there, and safeguarding them in our national genebanks," says Deepa.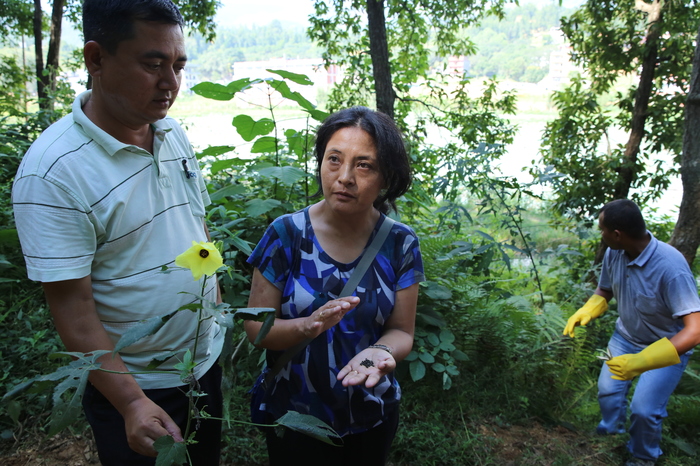 These are backed up in international genebanks and made available* to the global scientific community.
Efforts like this one are only possible thanks to the generous support of donors like Norway, which fund our 10-year CWR Project. Now in its 8th year, the collecting phase of the project is coming to an end.
 * * *
Maybe the Oryza rufipogon variety of wild rice will completely disappear from its natural habitat in Python Lake. Our Nepalese partners believe it could happen in the next five years or so. But even if it happens in 10 or 20 or 50 years, we now know that samples of that rice variety, coming straight from Python Lake, are conserved in the NARC genebank in Kathmandu. And we have Deepa, Krishna, and their colleagues Surendra Shrestha, Suresh Malasi, and Santosh Sharma at NARC, and the Norwegian government to thank.
 — ENDS —
 * All material collected under the Crop Wild Relatives project is shared under the terms of the Standard Material Transfer Agreement (SMTA) within the framework of the multi-lateral system of the International Treaty for Plant Genetic Resources for Food and Agriculture (ITPGRFA).